The Ultimate Activity for Some Serious Family Fun!
Arctic Blast Tubing Park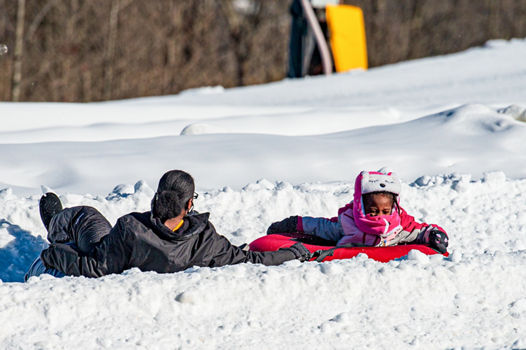 Perfect for all ages
Arctic Blast Tubing is a fun place for families! The tubing park offers an adrenaline pumping experience that is perfect for children and adults of all ages! Inside the lodge you will find bathrooms, concession stand and seating. We also have seating outside and a fire pit.
Tubing Requirements:
42" minimum height for tubing
While riding the carpet lift; riders must keep their tube in front of them at all times
One rider per tube
Rider must be seated in center of tube
Participants must be able to fit inside tube properly
Participant must sit in tube with legs between handles
No Superman
Small children may sit with legs in the tube, but must remain leaning back against the tube
All participants must follow instructions given by employees.
All participants must not go down any lane until directed by an employee when lane is clear
No personal sleds, tubes or dogs allowed
Tubing Disclaimer: In order to elevate the safety of each guest, we may reduce the ride-together limit depending on ever-changing conditions. At Management's discretion, lane limits may be reduced from three riders at a time down to singles only in some cases.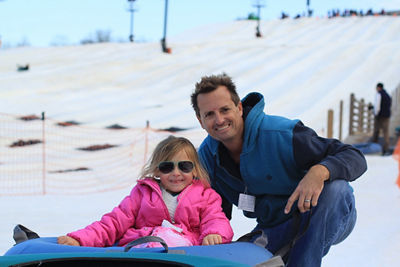 Hours of Operation
Tubing will not be open for the 2021-22 season. This will allow us to continue to focus on the ski and snowboard experience.
Tubing is currently not available
Please Note: The Arctic Blast Tubing Park DOES HAVE A MAXIMUM CAPACITY and MAY SELL OUT during busy holiday periods and good weather weekends. "Last Tickets" are sold 2 hours prior to closing. We recommend purchasing tickets online to reserve your spot and get the best rate!
Know Before You Go
"Last Tickets" are sold 2 hour prior to Closing.
Rates include the use of the snow tubing lanes, the snow tube, and the lift back to the top.
Tube availability may be limited and is on a first come, first serve basis.
Your session begins when you purchase your ticket. All tubers must purchase a tubing ticket. Rates and Hours of Operation are subject to change without notice.
All tubing participants are required to sign a tubing release before participation.
Due to safety reasons, we can only allow one (1) person per tube. At times, tubers will be allowed to "link" tubes and go down together in the same lane, but that depends on the snow conditions and is at the discretion of the Tubing Manager. During most conditions, Adults will be allowed to "link" with Children 6 & under.
Please be aware that Arctic Blast Tubing can reach capacity levels during busy holidays and other weekends. To ensure the most runs down our tubing hill, try to come early or later in the evening. Typically tubing is most busy in the mid-afternoon and early-evening hours. Plan ahead and you can always call our office at 812.723.4696 for updates on crowds and capacity before making your trip.
Although every precaution is taken to ensure accuracy, errors or misunderstandings in price, quantity, and/or specifications may occur. We reserve the right to correct such errors. All times and prices are subject to change without notice. Rental equipment and snow tubes are subject to availability (first come, first serve) and cannot be reserved. ALL ticket sales are final. No refunds due to weather or slope conditions. Visa, MasterCard, Discover, American Express, and Organizational Checks (reserved groups only) are accepted. Tickets are NOT replaceable if lost, NON-transferable, and NON- refundable. If an individual is caught without a ticket, the individual(s) will be required to pay the full price of a Lift Ticket, plus a $50 admin fee. If the offending individual(s) do not comply with this policy, they will be retained until the police arrived and are processed for "theft of service."
Frequently Asked Questions