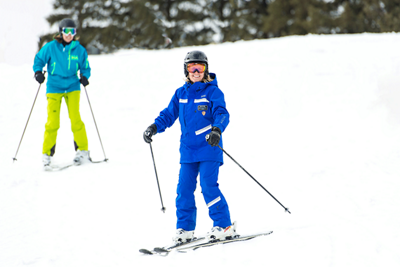 Your First Visit
Paoli Peaks has many visits each year from families and individuals who have never tried skiing or snowboarding before. We understand the questions that arise and the need to have all as much information to help you plan your trip - That's why we have dedicated this sections to first-timers. It should provide answers to all of your questions and more about your visit. If it doesn't, we are here to help! Give us a call at (812) 723-4696 or send us an email!

Always check the Snow Report before coming out to Paoli Peaks for updates on snow and tubing conditions. Skiing, snowboarding, and tubing are weather-dependent activities and conditions and hours are subject to change. Because of this, conditions and hours are subject to change without notice.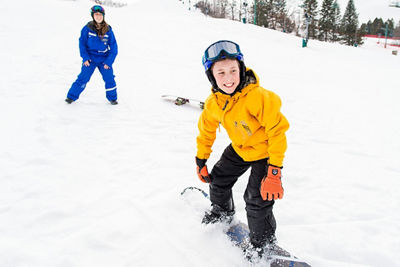 Buying Tickets
You can purchase tickets online for lift, rentals or lessons. Onsite purchases are located inside Main Entrance Doors (Lodge Main level) where you can purchase ski/snowboard lift tickets, rental equipment, and lessons.

Our Point-of-Sale system requires our cashiers to enter information a certain way. When at the ticket windows, it is helpful if you start with the first person providing the following information before moving on to the next person in your group:
Type of Lift Ticket or Season Pass (required): - Adult (13+), Child (5-12), 4 & Under
Need Rental Equipment? (optional, but necessary if you don't have your own.)
Need Helmet Rental? (optional)
Taking a Lesson? (optional) If so, which type? (group, private, semi-private, snow monsters, adaptive)
A lift ticket is required for each person who will be on the snow - your lift ticket includes access to the snow and the use of all lifts.
Private lessons can be purchased 48 hours in advance, Group Lessons can be purchased 24 hours in advance. To receive any potential discounts, we recommend purchasing at the same time you purchase your snow pass and/or rental equipment.

After receiving your snow pass, place it on something you will wear all day and will be visible to our lift attendants. We recommend your jacket or snow pants zipper. It is important to make sure the right ticket is on the right person.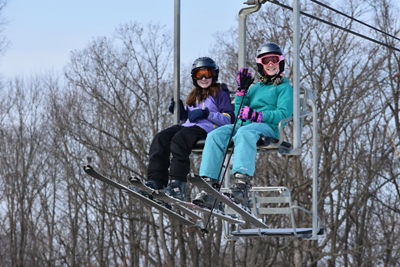 What To Wear
One of the best ways to ensure a positive experience is to dress appropriately. Staying warm and dry will help keep you comfortable, safe, and having fun!

Dress in layers! You can add or remove as needed.

Base Layers: This is the layer that will lay closest to your skin and provide insulation. Wool or synthetic fabric is recommended. Cotton is not ideal. A thin pants layer on the bottom and form-fitting long-sleeves on top.

Mid-Layers: The second layer is your mid-layer. An insulator jacket or fleece is a standard mid-layer because it is appreciated for its warmth and comfort.

Outer Layers: This is the layer that will help keep you dry and protect against wind. You will want a waterproof jacket

Snow Pants: Similar to the outer layer on top, a waterproof outer layer on the bottom is key to staying dry and warm. Insulated pants are recommended.

Socks: Thin, warm, and long, well-fitting socks are key! This is insulation for your foot and calf under your boot. Wool or synthetic fabric is recommended to help wick sweat and moisture away. Cotton is not ideal.
Resort Language
Trail Markers

Green Circle: The easiest trails on a mountain, denoted on trail maps and signs by a green circle. Usually groomed, wide and flat, and not a place for experienced skiers as traffic must remain slow.

Blue Square: Intermediate trail denoted on trail maps and signs by a blue square. Usually groomed and often the most popular runs.

Black Diamond: Expert trail denoted on trail maps and signs by a black diamond. The trail may or may not be groomed, and can vary from the merely tricky to insanely difficult. A double black diamond indicates the steepest, most difficult runs at a resort.



Lifts & Tickets

Lift Ticket: Ticket required for all on-hill ski & snowboard access. Lift tickets can be purchased online or at the ticket office and are non-transferrable.

Ticket Scanner: Employee at the base area of the hill that will scan your ticket before you access the hill.

Carpet Lift or Magic Carpet: Surface lift similar to a conveyor belt built into the ground. Walk onto this lift, stand still with skis or snowboard pointing forward while lift moves you to the top.

Rope Tow: A form of surface lift that utilizes a constantly moving rope. Point skis or snowboard straight uphill, grab rope tightly and allow rope to pull you uphill as you stand on your skis or snowboard.



Grooming & Snowmaking

Grooming, groomer or groomed terrain: The most common form of trail maintenance, done to spread new snow and to smooth over bumps, icy patches and other obstacles. To groom, tractors known as snowcats drag giant rakes over the snow.

Snowcat: A large vehicle capable of moving on snow. Most commonly used to move snow around the hill and groom terrain. At Afton Alps, we do not operate snowcats while we are open to the public.

Snow gun: A device used to make man-made snow by forcing water and pressurized air through a cannon-like machine.



Racing & Terrain Parks

NASTAR: aka National Standard Race, NASTAR is the world's largest known recreational ski and snowboard race program.

Terrain Park: A freestyle zone roped off from other downhill runs and filled with jumps, rails, fun boxes, and other assorted obstacles. Parks can also include a halfpipe and boardercross run.

Moguls: Bumps carved into the snow; typically they are created by the turns of skiers, but they can also be carved out for perfectly shaped mogul field. Generally for intermediate to advanced skiers.



More Beginner Terms

Balaclava: A facemask worn to cover exposed skin. Helpful in colder temperatures.

Pizza/French Fries: Slang term for an elementary skiing technique where skis are tilted together like a slice of pizza to snowplow down a slope or parallel, side by side like a French fry.

Ski Patrol: Trained skiers and snowboarders responsible for slope safety, including marking dangerous obstacles on/near a trail, and assisting or even carting injured riders down a mountain.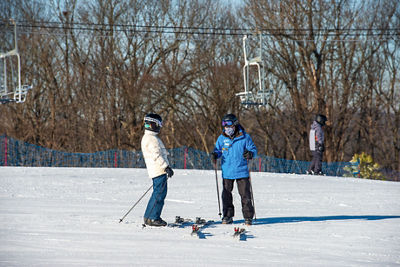 Rent Online and Save!
Ski and ride this winter with a more convenient way to rent equipment. Paoli Peaks offers online rental bookings this season, saving you both time and money. Book your rentals today!
Previous tab
Previous tab
Tips prior to hitting the slopes
Get in shape. Don't try to ski yourself into shape. You'll enjoy skiing more if you're physically fit.
Be sure to have your ski or snowboard bindings adjusted correctly.
When buying skiwear, look for fabric that is water and wind-resistant. Look for wind flaps to shield zippers, snug cuffs at wrists and ankles, collars that can be snuggled up to the chin and drawstrings that can be adjusted for comfort and keep wind out. Be sure to buy quality clothing and products.
Dress in layers. Layering allows you to accommodate your body's constantly changing temperature. For example, dress in polypropylene underwear (top and bottoms), which feels good next to the skin, dries quickly, absorbs sweat and keeps you warm. Wear a turtleneck, sweater and jacket.
Be prepared. Mother Nature has a mind of her own. Bring a headband or hat with you to the slopes, 80 percent of heat-loss is through the head. Wear gloves or mittens (mittens are usually better for those susceptible to cold hands).
Wear sun protection. The sun reflects off the snow and is stronger than you think, even on cloudy days!
Always wear eye protection. Have sunglasses and goggles with you. Skiing and snowboarding are a lot more fun when you can see.
Tips While on the slopes
Take a lesson. Like anything, you'll improve the most when you receive some guidance. The best way to become a good skier or snowboarder is to take a lesson from a qualified instructor.
Drink plenty of water. Be careful not to become dehydrated.
Curb alcohol consumption. Skiing and snowboarding do not mix well with alcohol or drugs.
Know your limits. Learn to ski and snowboard smoothly-and in control. Stop before you become fatigued and, most of all have fun.
If you're tired, take a break. Hydrate, Hydrate, Hydrate!
Follow the "Your Responsibility Code"
Tips for Kids
Have your child memorize the "Your Responsibility Code." It's the seven rules of the slopes and many accidents can be avoided by adhering to the Code.
Helmets are a good idea. If your child wears a ski helmet, remember you may have to raise your voice more to get their attention because a helmet may impede their hearing. Make sure the helmet fits correctly. Educate your child about the benefits and limitations of the helmet. Wearing a helmet doesn't give permission to ski or snowboard faster or recklessly.For more information on helmets, visit the NSAA web site Lids on Kids. Helmets can be rented from our Main Ticket Windows for $12, or purchased at our Pro Shop.
Make sure your child knows when to stop skiing. For example, if the clothing layer next to their skin stays wet and they're chilled, if they're injured, have a problem with equipment or even if they're simply worn out. Educate them that it's alright to stop before the end of the day and breaks are fun.
Make a meeting place if you get separated, for example, at the top of chairlift #2. The walkie talkies are convenient and a big hit on the slopes.
Skiing and Snowboarding burn a lot of calories. It's important to take frequent breaks and restock your body nutrients. Bring along some snacks with you; protein bars and bananas are healthy snack options. It is also important to drink lots of water - Hydrate, hydrate, hydrate!