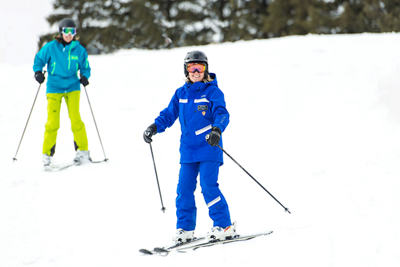 Your First Visit
We know trying something new can be intimidating, especially when it means strapping something to your feet and sliding down a snow-covered hill. Paoli Peaks has many visits each year from families and individuals who have never tried skiing or snowboarding before. We understand the questions that arise and the need to have all as much information to help you plan your trip - That's why we have dedicated this sections to first-timers. It should provide answers to all of your questions and more about your visit. If it doesn't, we are here to help! Give us a call at (812) 723-4696 or send us an email!

Always check the Snow Report before coming out to Paoli Peaks for updates on snow and tubing conditions. Skiing, snowboarding, and tubing are weather-dependent activities and conditions and hours are subject to change. Because of this, conditions and hours are subject to change without notice.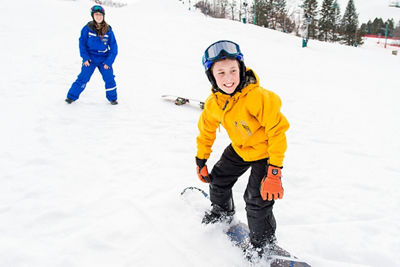 Buying Tickets
The ticket windows are located inside the lodge through the Main Entrance Doors (2nd level) where you can purchase ski or snowboard lift tickets, rental equipment, lessons, and Paoli Peaks Retail.

Our Point-of-Sale system requires our cashiers to enter information a certain way. When at the ticket windows, it is helpful if you start with the first person providing the following information before moving on to the next person in your group:
Type of Lift Ticket or Season Pass (required): - Adult (13+), Child (5-12), 4 & Under
Need Rental Equipment? (optional, but necessary if you don't have your own.)
Need Helmet Rental? (optional)
Taking a Lesson? (optional) If so, which type? (group, private, semi-private, snow monsters, adaptive)
A lift ticket is required for each person who will be on the snow, as well as, renting equipment and taking a lesson. A lift ticket includes access to the snow and the use of all lifts.
Lessons can be purchased at any time, however we recommend purchasing at the same time you purchase your snow pass and/or rental equipment.

After receiving your snow pass, place it on something you will wear all day and will be visible to our lift attendants. We recommend your jacket or snow pants zipper. It is important to make sure the right ticket is on the right person.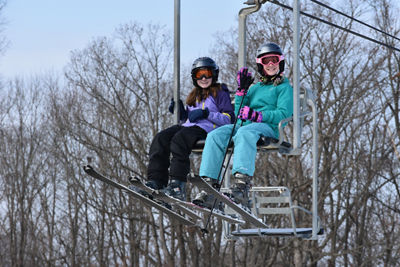 What To Bring
Gloves, mittens, liner gloves
Hat or headband
Neck gaiter/face mask/bandana
Water and Wind resistant snow clothes (jacket and pants).
Layering items like vests, tank tops, long sleeve shirts, long underwear, sweatshirts
Wool or polyester socks (not cotton), light to medium thickness.
Ski Googles or sunglasses
Sunscreen and Lip Balm with SPF.
Credit Cards, ID's, Phone, Camera with a safe and secure place to store them
Ski and ride this winter with a more convenient way to rent equipment. Paoli Peaks offers online rental bookings this season, saving you both time and money. Book your rentals today!
Previous tab
Previous tab
Tips prior to hitting the slopes
Get in shape. Don't try to ski yourself into shape. You'll enjoy skiing more if you're physically fit.
Be sure to have your ski or snowboard bindings adjusted correctly.
When buying skiwear, look for fabric that is water and wind-resistant. Look for wind flaps to shield zippers, snug cuffs at wrists and ankles, collars that can be snuggled up to the chin and drawstrings that can be adjusted for comfort and keep wind out. Be sure to buy quality clothing and products.
Dress in layers. Layering allows you to accommodate your body's constantly changing temperature. For example, dress in polypropylene underwear (top and bottoms), which feels good next to the skin, dries quickly, absorbs sweat and keeps you warm. Wear a turtleneck, sweater and jacket.
Be prepared. Mother Nature has a mind of her own. Bring a headband or hat with you to the slopes, 80 percent of heat-loss is through the head. Wear gloves or mittens (mittens are usually better for those susceptible to cold hands).
Wear sun protection. The sun reflects off the snow and is stronger than you think, even on cloudy days!
Always wear eye protection. Have sunglasses and goggles with you. Skiing and snowboarding are a lot more fun when you can see.
Tips While on the slopes
Take a lesson. Like anything, you'll improve the most when you receive some guidance. The best way to become a good skier or snowboarder is to take a lesson from a qualified instructor.
Drink plenty of water. Be careful not to become dehydrated.
Curb alcohol consumption. Skiing and snowboarding do not mix well with alcohol or drugs.
Know your limits. Learn to ski and snowboard smoothly-and in control. Stop before you become fatigued and, most of all have fun.
If you're tired, take a break. Hydrate, Hydrate, Hydrate!
Follow the "Your Responsibility Code"
Tips for Kids
Have your child memorize the "Your Responsibility Code." It's the seven rules of the slopes and many accidents can be avoided by adhering to the Code.
Helmets are a good idea. If your child wears a ski helmet, remember you may have to raise your voice more to get their attention because a helmet may impede their hearing. Make sure the helmet fits correctly. Educate your child about the benefits and limitations of the helmet. Wearing a helmet doesn't give permission to ski or snowboard faster or recklessly.For more information on helmets, visit the NSAA web site Lids on Kids. Helmets can be rented from our Main Ticket Windows for $10, or purchased at our Pro Shop.
Make sure your child knows when to stop skiing. For example, if the clothing layer next to their skin stays wet and they're chilled, if they're injured, have a problem with equipment or even if they're simply worn out. Educate them that it's alright to stop before the end of the day and breaks are fun.
Make a meeting place if you get separated, for example, at the top of chairlift #2. The walkie talkies are convenient and a big hit on the slopes.
Skiing and Snowboarding burn a lot of calories. It's important to take frequent breaks and restock your body nutrients. Bring along some snacks with you; protein bars and bananas are healthy snack options. It is also important to drink lots of water - Hydrate, hydrate, hydrate!